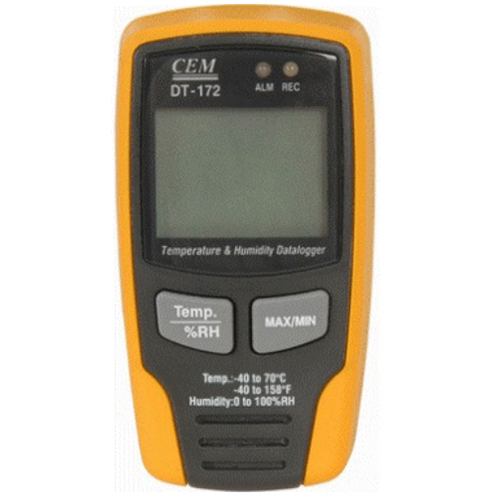 Price And Quantity
1 Piece

3500.00 - 7500.00 INR/Piece
Product Specifications
Plastic

Yellow

Industrial

Temperature Logger

Electronic
Trade Information
1000 Piece Per Month

2-3 Week

Yes

All India
Product Description
Based on modern technology, our professionals are capable of manufacturing and supplying Temperature Logger. This data logger is a portable instrument suitable for measurement of temperature within a defined period of time. The logger helps in recording the digital data after which it can be retrieved, viewed and evaluated. Our offered temperature data logger is widely demanded by various industries for usage in the mechanical or thermal processes. This Temperature Logger is widely acclaimed among our patrons for variegated reasons, one of which is its low costs and high efficiency.
Temperature Logger Features:
Accurate temperature sensor
Accurate results
Memory of 16,000 points
Temperature Logger Specifications:
Temperature range: -40 to 85 degree centigrade
Humidity range: 0 to 100% RH
Sample interval: Programmable from 1 sec. to 2 hours
Memory size: Up to 16,000 points
Temperature sensor: Thermistor.
FAQ:
Q. What is a Temperature Logger?
Ans: A Temperature Logger is a device used to monitor and record temperature fluctuations over time. It is commonly employed in various industries such as food storage, pharmaceuticals, transportation, and environmental monitoring.
Q. How does a Temperature Logger work?
Ans: Temperature Loggers are equipped with sensors that measure the ambient temperature. They typically record the data at regular intervals and store it in their internal memory. Some loggers have built-in displays, while others may require connecting to a computer or smartphone to access the recorded data.
Q. What types of Temperature Loggers are available?
Ans: There are several types of Temperature Loggers, including:
Standalone Loggers: These operate independently and store data internally.
Wireless Loggers: These can transmit data wirelessly to a central monitoring system.
Data Logger with Display: These loggers have a built-in display to view current readings.
USB Data Loggers: These can be connected directly to a computer's USB port for data retrieval.
Q. How accurate are Temperature Loggers?
Ans: The accuracy of Temperature Loggers can vary depending on the make and model. High-quality loggers can have accuracy within a few degrees Celsius or even fractions of a degree.
Q. What is the typical battery life of a Temperature Logger?
Ans: Battery life varies based on the device and its usage pattern. Some loggers may last several months, while others can operate for several years before needing battery replacement.
Q. Can I use a Temperature Logger for outdoor monitoring?
Ans: Yes, there are Temperature Loggers designed specifically for outdoor use. These loggers are typically weatherproof and can withstand various environmental conditions.
Q. How do I retrieve data from a Temperature Logger?
Ans: The method of data retrieval depends on the logger's type:
For standalone loggers, you may need to physically connect the device to a computer or use an SD card to transfer data.
Wireless loggers can transmit data directly to a central monitoring system or a smartphone app.
Data loggers with displays allow you to view data directly on the device itself.
Q. Can I set up alarms on Temperature Loggers?
Ans: Yes, many advanced Temperature Loggers allow you to set up custom temperature thresholds. When the temperature goes beyond these limits, the logger triggers an alarm, either audibly or through notifications.
Q. Are there Temperature Loggers that can monitor multiple points simultaneously?
Ans: Yes, multi-channel Temperature Loggers are available, allowing you to monitor several locations or different points within a specific area.
Q. Do Temperature Loggers have data analysis software?
Ans: Many Temperature Loggers come with accompanying software that enables data analysis, graphing, and exporting data for further evaluation.
Enter Buying Requirement Details
Back to top